What's the best way to spend a hurricane evacuation?
How about at a Disney resort, making lots of new friends, and getting lots of hugs?
That's exactly what we did!
Monday evening when we checked in things weren't too bad with mom. As the evening progressed, sadly it got more challenging for her. Unfortunately when you have someone who is on Alzheimer's Adventure and you take them out of their familiar environment, things become unpredictable. She was up over 20 times during the night. She of course has no recollection of this, but Michael stayed up during the night because he was concerned of her trying to leave the room. We had the screamer (a portable alarm) on the door, so it would go off if she tried to open the door. But Michael said he also didn't want her to get more upset because of it going off. So each time she would go for the door, he would talk to her and calm her and send her back to bed.
This is one incredible 17-year-old!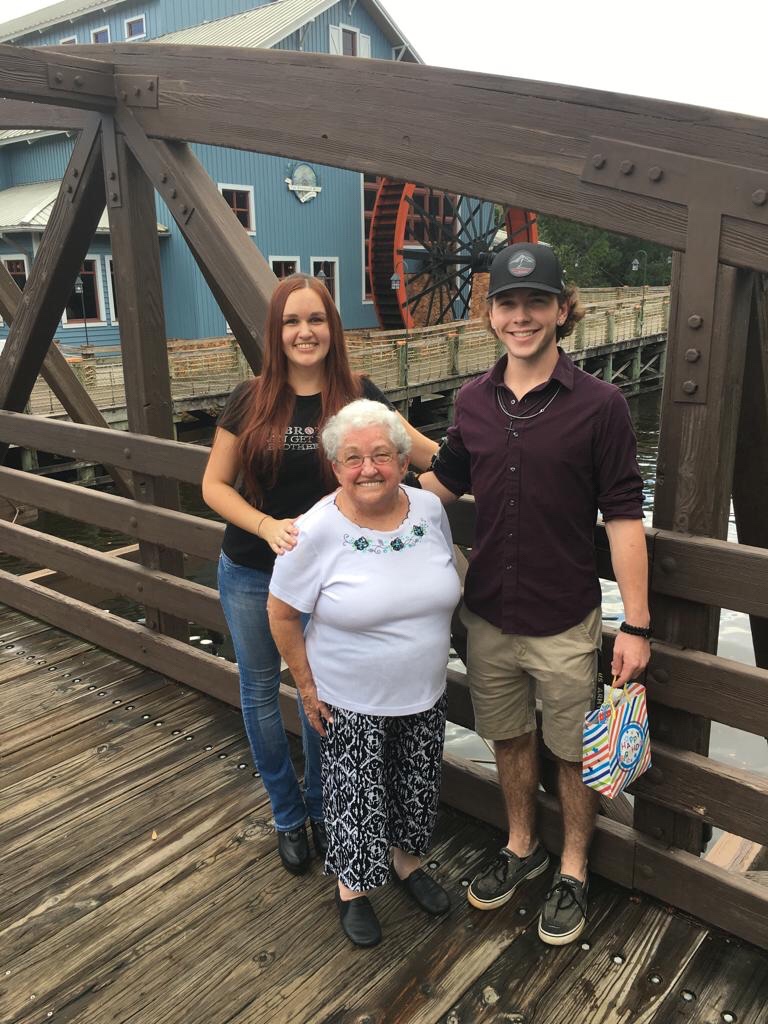 (Didn't think to get a photo of Michael & Nana during our evacuation but this was taken last month when we met Jorjia for dinner at Disney)
Since he had taken night duty, I decided to make sure that mom and I were out of the hotel room for the majority of the day.
We had chosen a Disney resort because of the comfort that it would afford us of being able to walk around and get out of the room. An added benefit was the bracelets that we were all given upon arrival; that not only worked to charge things to our room, but also connected mom to a room number which in turn connected her to our name and cell phone number. This gave us some peace that if she did get separated from us, and was confused – she could get help from staff.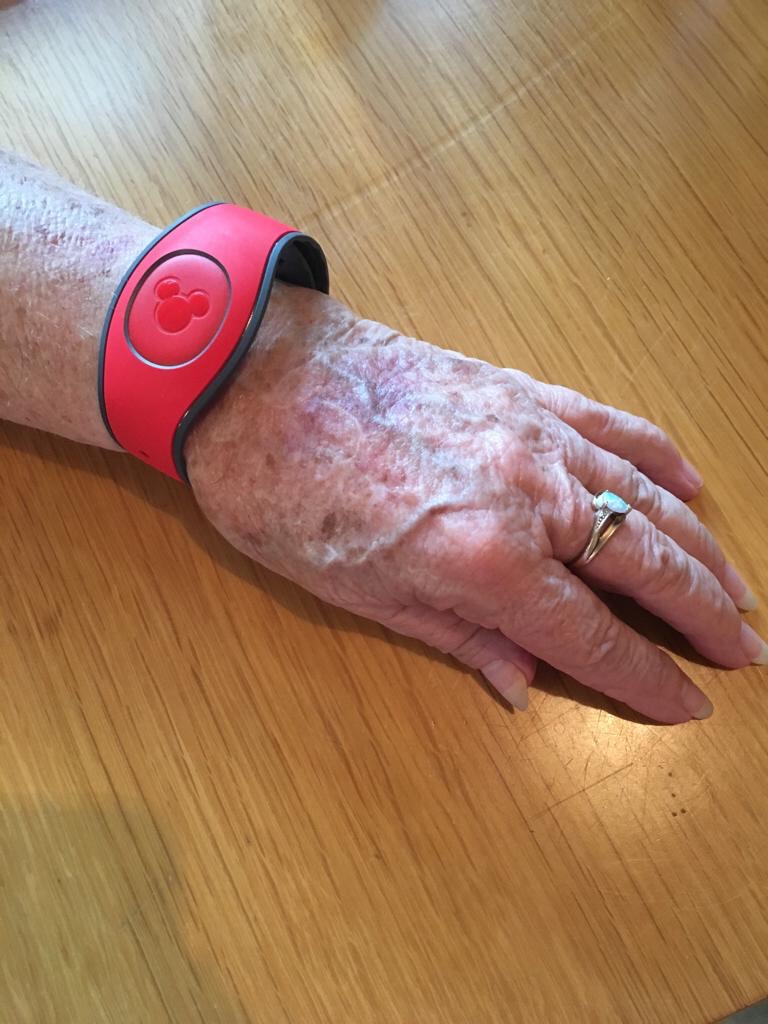 We started off the morning on the veranda enjoying cereal and her coffee as we watched the boats on the river, and the people walking along the lane.
Along came Jeanne! What a ray of sunshine! Jeanne is part of the housekeeping staff, and she started mom's morning off so well! We talked for a few moments, and she got a number of hugs from mom.
Jeanne said something that gave me the inspiration to write this blog.
Jeanne said, " A person feels seen when they get a hug. It makes them feel good."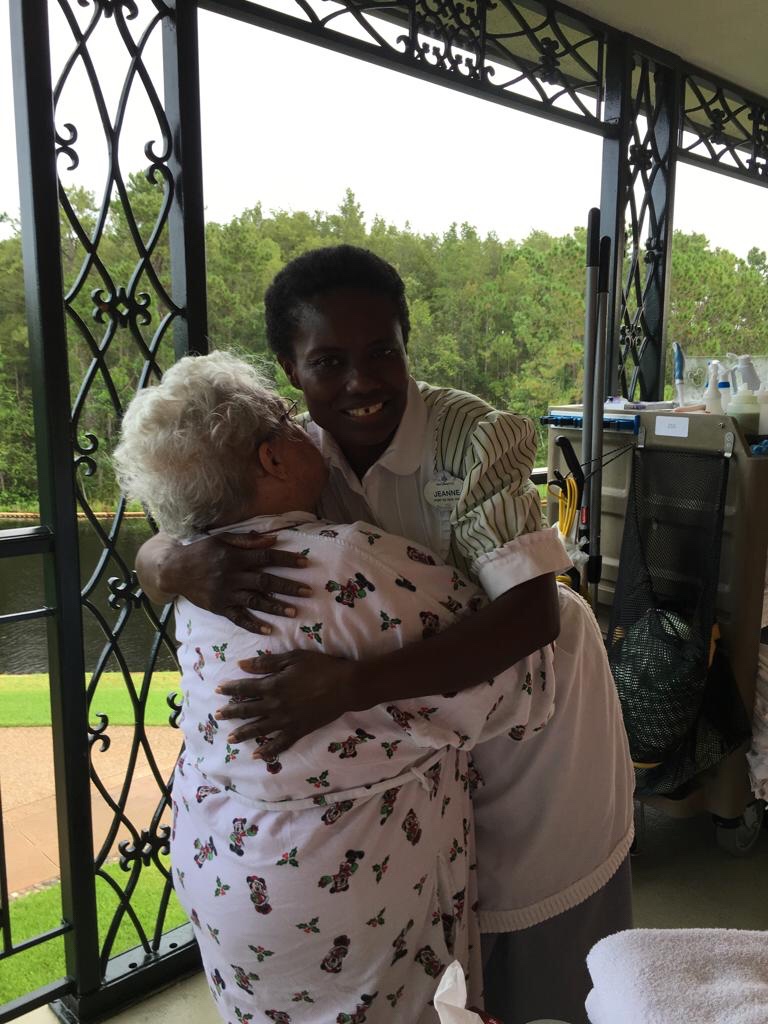 She went on to explain that people can look at someone and make eye contact; they can look at someone and smile; but to give a hug requires seeing them. Actually seeing them.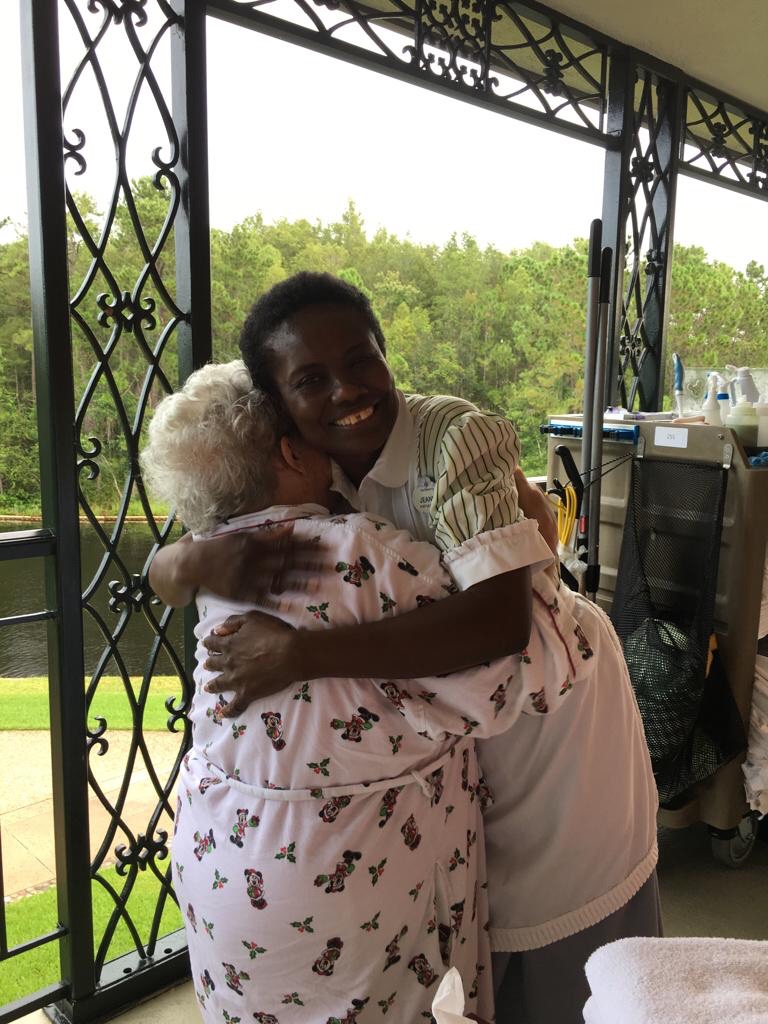 This got my mind going. Soon, the idea for a blog began to take shape, and I spent the rest of the day gathering photos of mom's hugging escapades.
Hugs are so beneficial. I have read that they can lower blood pressure, reduce anxiety and help us stay healthier. So, I decided to utilize this to help mom enjoy our evacuation instead of being stressed!
After finishing breakfast and dressing for the day, I took mom out on the boat to Disney Springs. It was a beautiful ride, taking us from a dock at our resort to a dock walking distance from Disney Springs Marketplace shops and restaurants.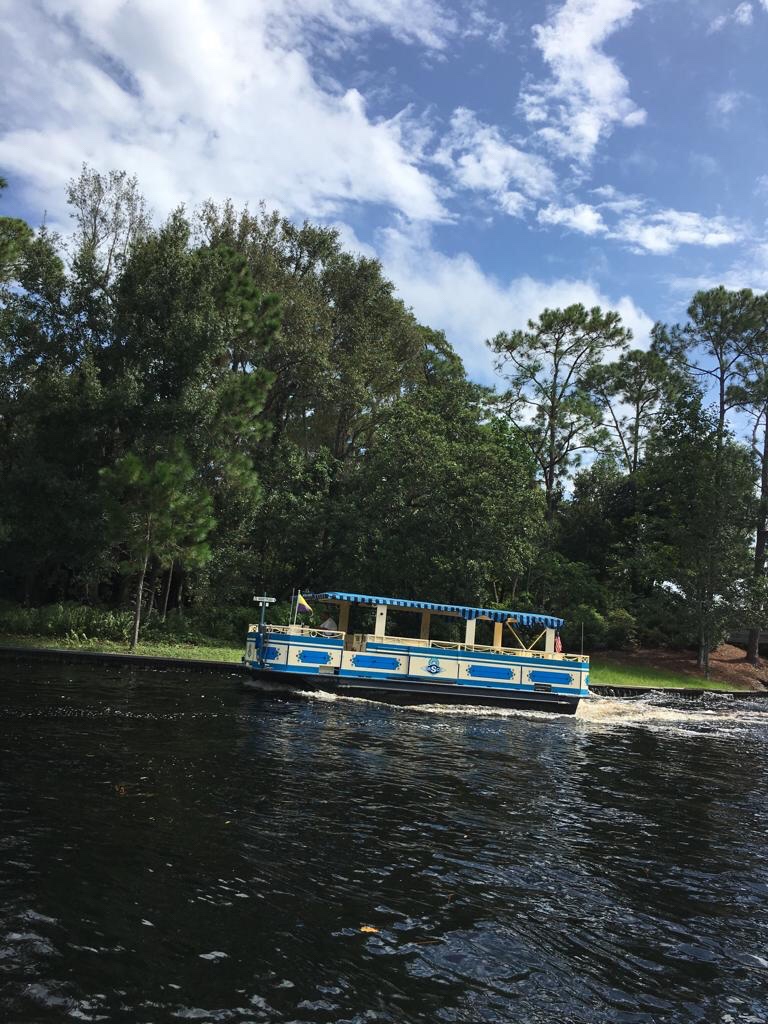 Our first stop was the Christmas store. Mom adores holidays and decorating, so this was a very good start!
The entrance that we started at was full of Halloween and fall festivities. Mom was thrilled! There we met a sweet young lady named Anna.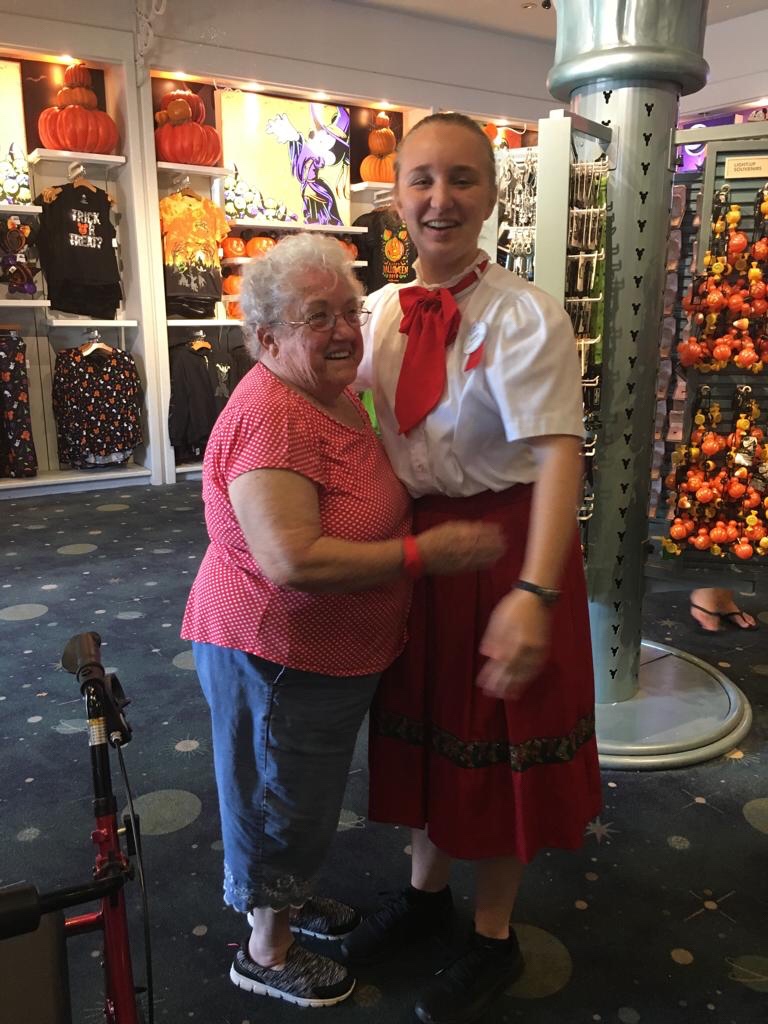 Anna is from Ohio, and is earning her ears at Disney, which means she hasn't been working here long. She was so sweet and visited with Nana for quite a bit. Mom gave her hugs a number of times, and we enjoyed talking about Ohio and also how mom used to work at Disney in retail years ago.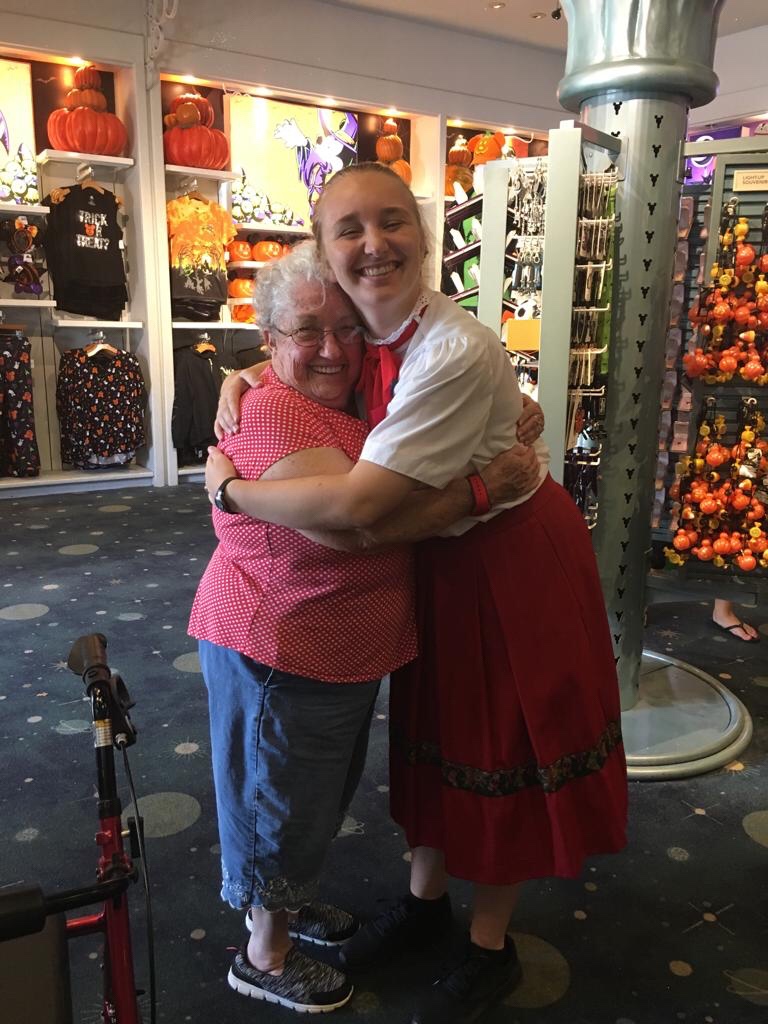 After visiting the Christmas store, we enjoyed a nice lunch at WolfGang Puck Express, where a sweet couple, Joe & Jane took our photo. The food was phenomenal and the visit with this couple topped it off completely! They were a lot of fun, and we enjoyed getting to know them.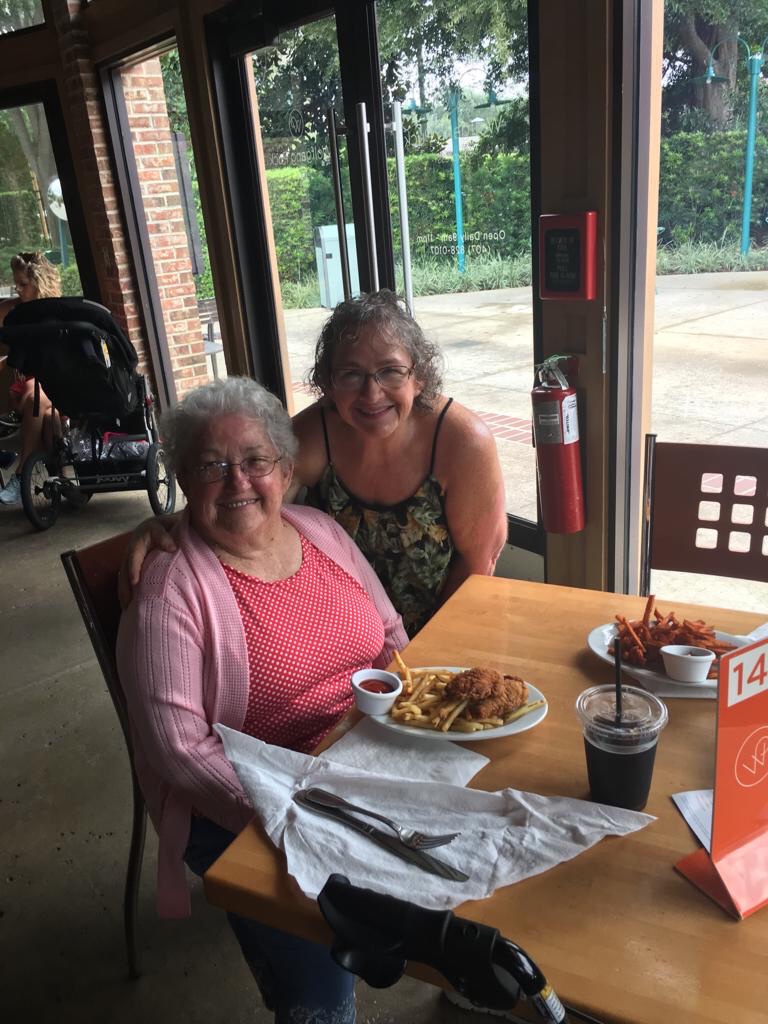 We strolled back to the boat and took a ride to the opposite side of our resort and walked around a bit there as well. We found the gift shop and happened across AnnMaria. She was a joy to visit with and a wealth of information too! It was certainly worth the stop.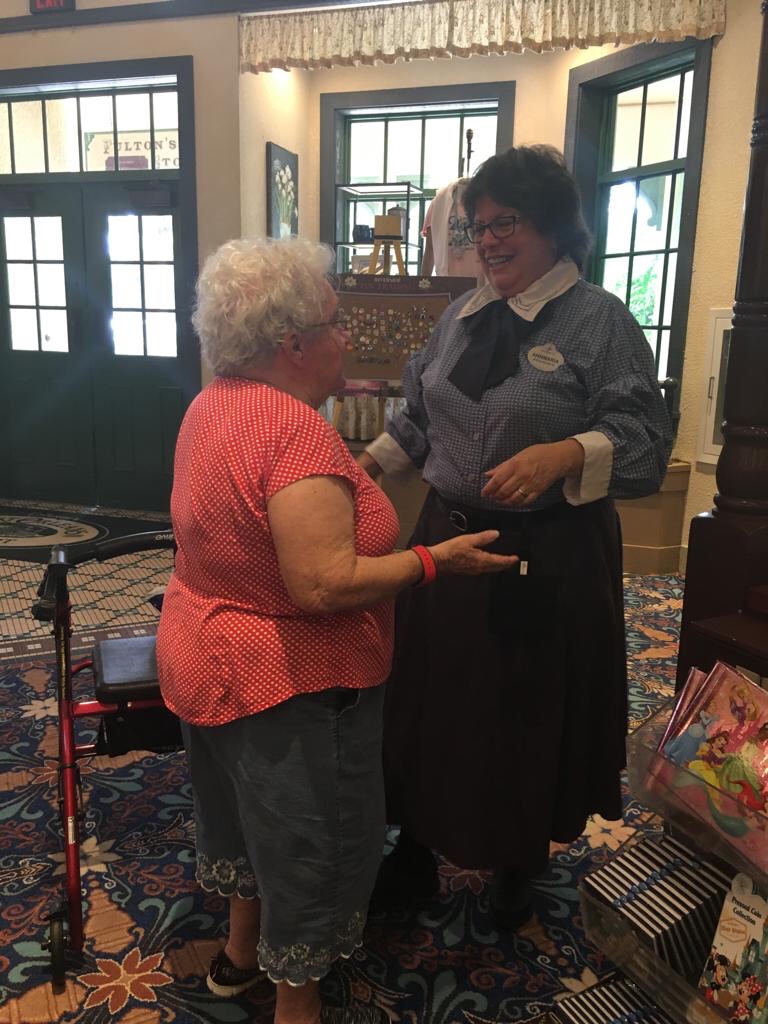 I lost track of how many hugs mom and AnnMaria gave each other!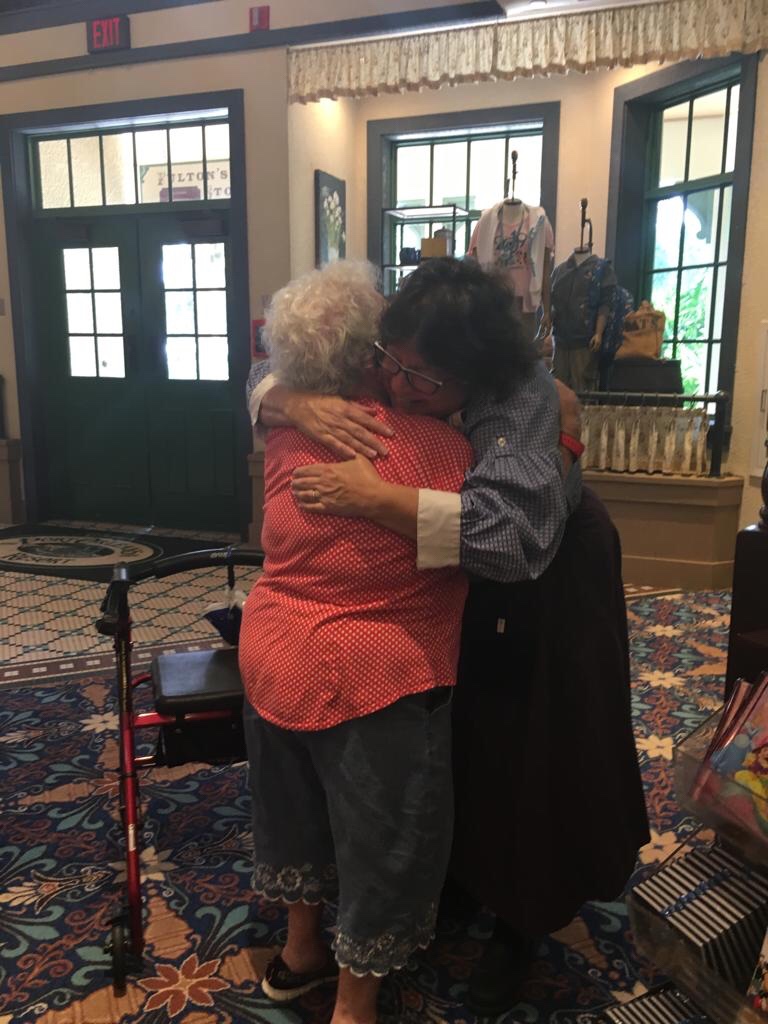 But the more they laughed, talked and hugged, the happier the energy in that room became. It was funny, because others began to come by to see what was happening.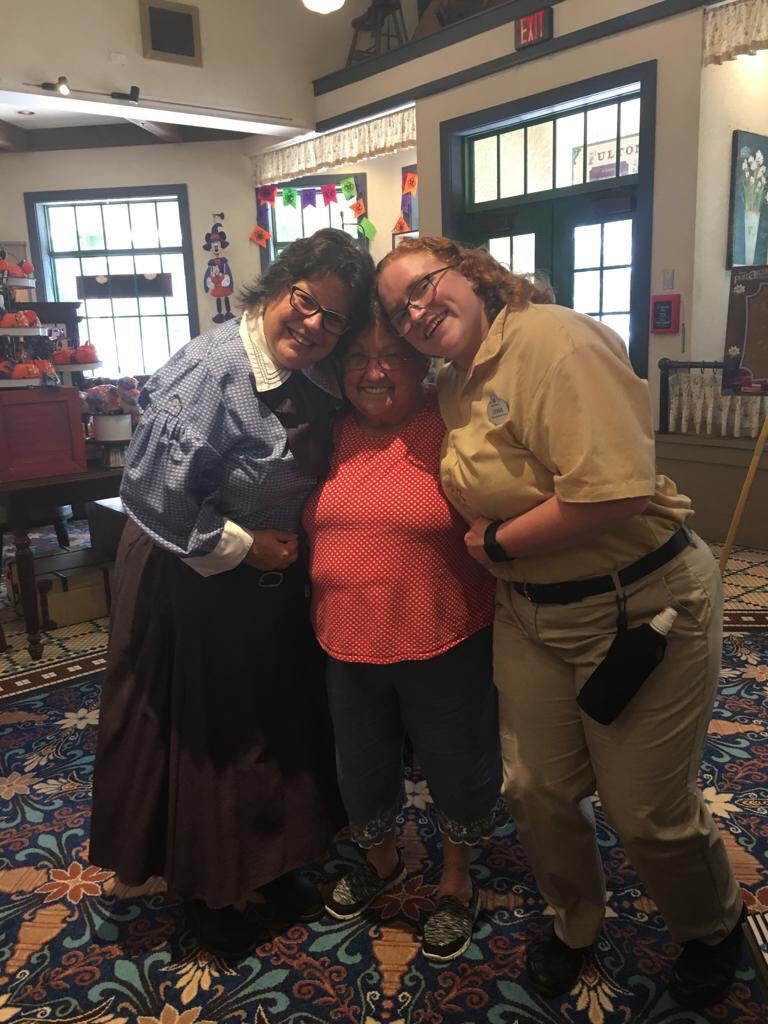 Then, AnnMaria's friend Lessie stopped over. Laughing, they made a 'Hug Sandwich' with mom in the middle!
Lessie was a lot of fun, and her smile was infectious!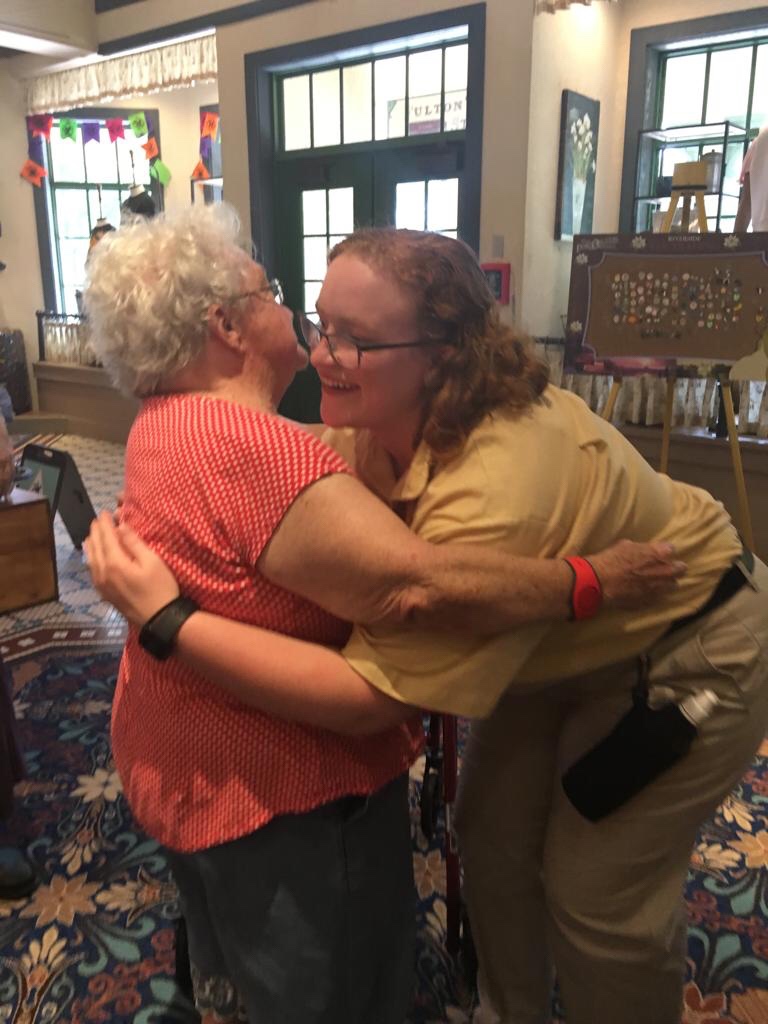 When she heard that Nana was giving out hugs, she immediately squatted to get one for herself!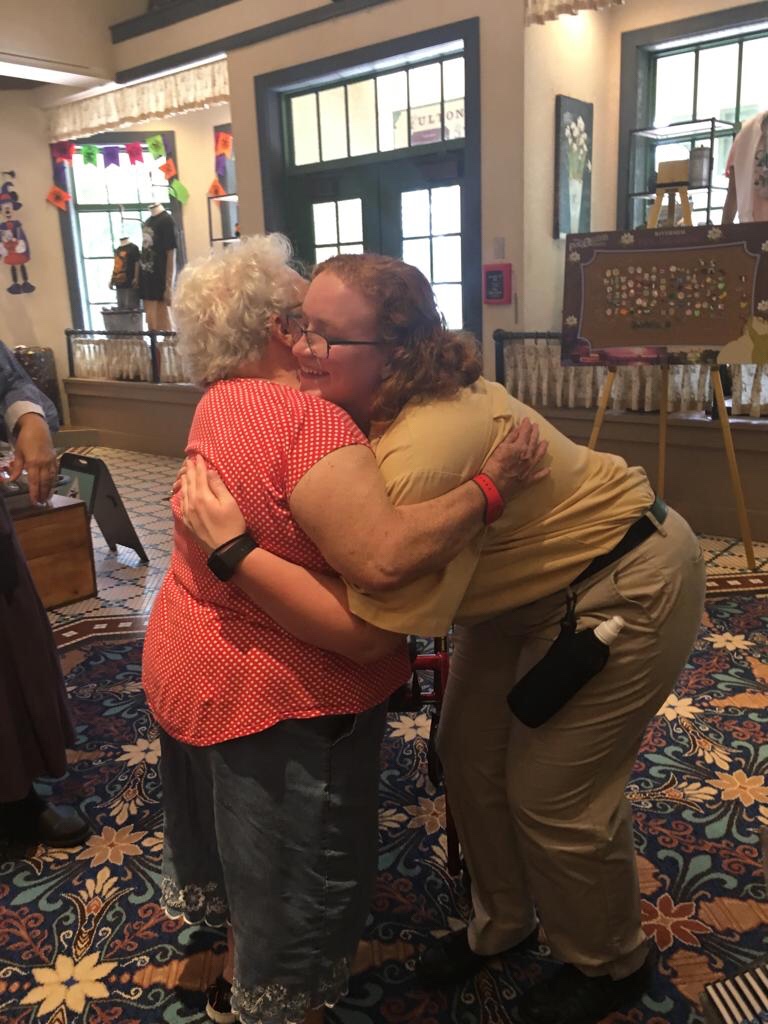 Mom couldn't stop talking as we left the store about how much she had enjoyed it, and how lovely everyone was.
We headed back to the resort to settle for the evening and wait for Ken to come by for dinner. Mom was in such high spirits and very excited about her day.
There was no worry in her voice about the hurricane, and she was relaxed and happy.
Mom kept sharing with everyone that she really felt if we could get more people hugging each other, that the world would be a better place. Everyone agreed. She told them that for as long as she is here, that is her plan, to hug as many people as she can!
I thought that we were done with hugs for this trip, except of course Ken and Michael hugging on her. I was soon proven wrong, as we were leaving from dinner down at the food court, we saw Ellie.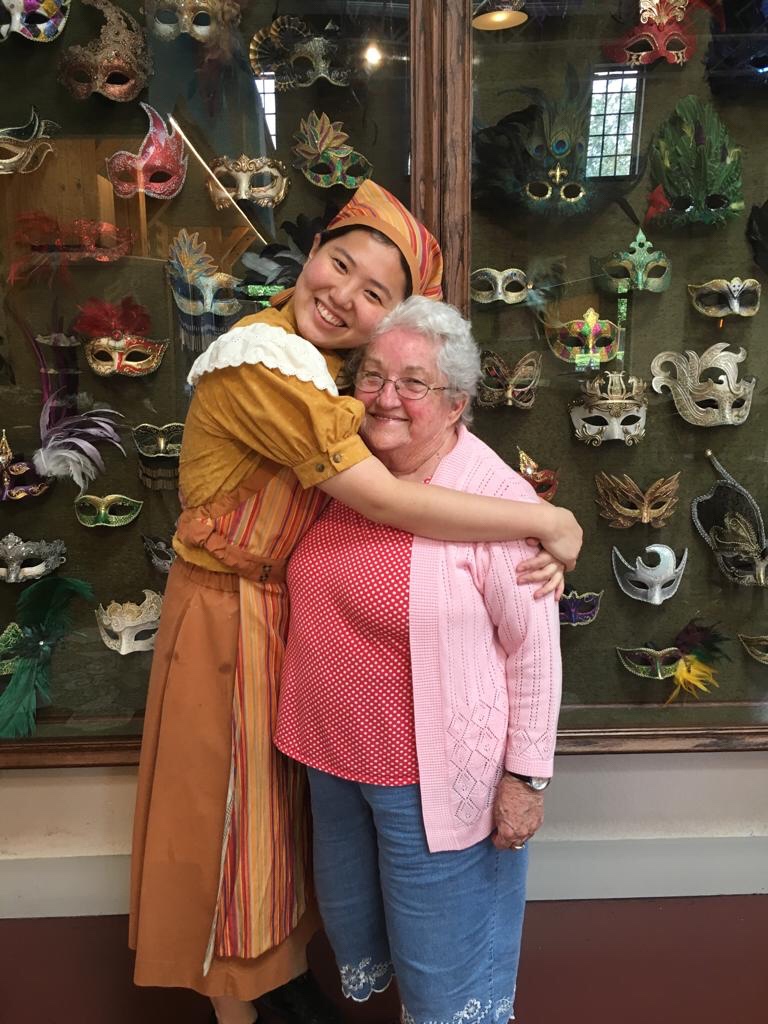 When I told Ellie about the blog, and asked if she would like to be part of it as well, she said yes!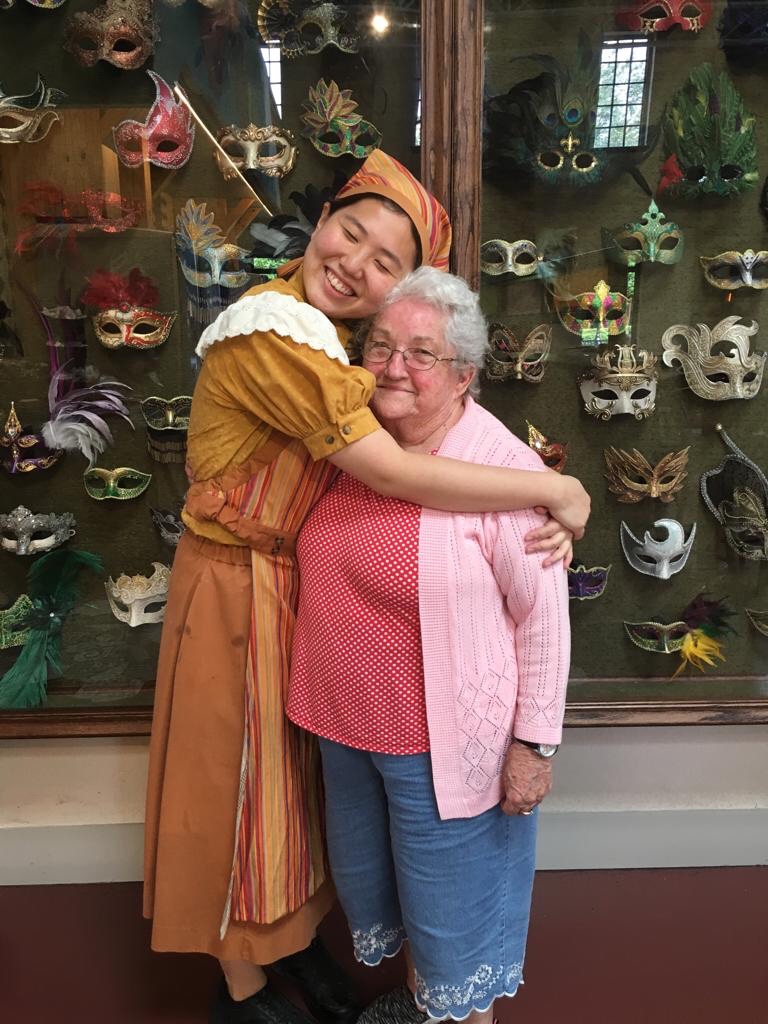 Honestly, I think this photo of Ellie's face, the peace and love one feels with a hug speaks volumes. By this point mom was pretty wiped out, and her hugs were not as energetic, but still loving. This didn't stop Ellie from lavishing love on mom and it made me feel so good.
All in all, each of these ladies throughout the day blessed mom and I even more than they knew. It was such a pleasant peaceful day, creating wonderful memories for me, that I could continue to share with mom.
Mom has a focused intentionality on making human physical contact. It doesn't matter to her if it is a man, woman, or child, she will hug anyone and everyone. Breaking through propriety walls that we build to shield ourselves from connection. She's so little, like a pixie and can get even the most rigid and professional people to smile and share in a hug.
It really is her super power.
She's changing this world, one hug at a time!
When was your last hug?
Have you ever hugged a stranger?
How do you feel when you get a good hug?
Hugs to you, Amy
Photo Credit:
Amy & Lois …. Joe & Jane from Indialantic Florida
All others – me.
THANK YOU!! We appreciate you reading, commenting, liking, sharing and just all around being you! You rock!
🤗 Sending you a Virtual Hug 🤗