Ok, great… but HOW?!
Feeling a bit overwhelmed at taking a mini-vacation (possibly: for the first time | first time as a couple | first time as a family | first time alone | etc.)?
Don't worry, you aren't alone. Honestly, just the thought of the work to be done to prepare and take this trip can be enough to cause one to hesitate about even doing it. That's ok. Hesitate. For one moment.
Then, know that for things to change, things must change.
Sounds like a silly quote, but there is a lot of accuracy there.
You are taking this mini-vacation for a number of reasons:
Your mental health – you know you could use the break.
Something fun to break up the monotony of your routine.
Cuz Amy (me) sold you on it, and you are just doing it! (Awesome!)
You've got someplace you really want to go, and this is the perfect time.
Whatever the reason, or reasons that you are taking the trip, keep that in mind if you begin to feel like backing out – or if you begin to question is it really worth it?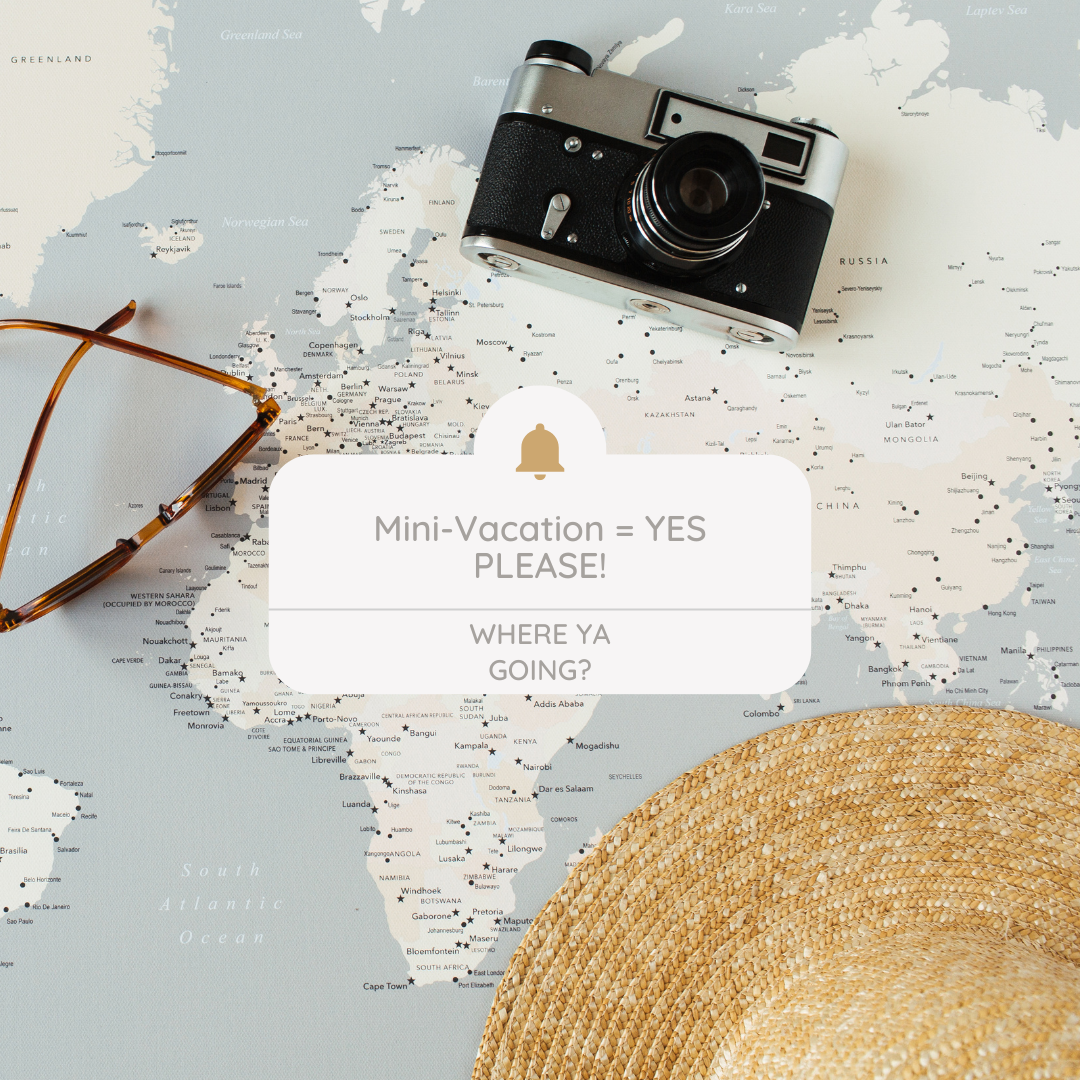 One thing that I teach my clients is to break down a project or task into small actionable steps, that can be completed in little chunks of time. By using this approach, it tends to remove some of the stress or even fear of wondering how does adding more to your schedule end up giving you relief of time away.
Let's do an example.
Jill was exhausted, she knew that taking some time away from work and home would be so good, but honestly, the thought of planning it all out almost made her cry.
Her life coach had taught her to take some of her tasks and break them down into smaller sections so that she didn't feel overwhelmed on what all needed to be accomplished. So, she applied that to her mini-vacation.
She decided that for today, she would just sit down with a piece of paper and set a timer for 10 minutes. During that time, she would write down anything that came to her mind when she thought about going away. She would allow herself to write down any feelings, anything that she needed to do, buy, research, take care of, check in to, or prepare. Once the timer was done, she would read over the paper and determine what things she could connect and create a priority list. This made today a day of planning to plan – and by getting it out of her head and on to paper, she would feel so much better.
The list would then be broken down into tasks that could be handled a bit at a time on different days. She decided that she could allocate 20 minutes a day toward handling the stuff on the list.
Day one was two priority action steps. First, she needed to determine when she would be going and returning. Then, she needed to contact where she liked to board her dog. If for some reason there wasn't availability for boarding her pet, then she would need to rethink the dates, or find another option.
Day two was scheduling the time off work, using her vacation time that she had been saving meant that it wasn't costing her to be off of work. (*note to reader – if you don't have vacation pay available, check out the previous blog #2 in this series for some financial suggestions.)
The next day, Jill would sit down and research where she wanted to go. Spending time on Pinterest and Google didn't sound so overwhelming, and she decided that she would allot some extra time for that.
Once Jill chose where she wanted to go, she contacted her travel agent to handle all the arrangements. (**note to reader – see below regarding travel breakdown information if you choose not to use a travel agent)
Then, Jill broke the rest of her list down to be split into multiple days the following week.
She needed to create a list of what she wanted to pack; do laundry ahead; purchase groceries; decide what needs purchased for the trip; go pick up what was needed for the trip. Each of those tasks were assigned to different days.
By taking the time to plan all of this out, Jill was able to relax and prepare for her trip in little bits of time, and no longer felt overwhelmed.
Dear reader, I hope that you liked the story, and that it helps you to remember how easily this can all come together, if you decide that it will.
Some other important things to remember are:
If where you are headed requires a passport – make sure you have yours.
Be sure to contact your credit card companies to let them know that you are traveling, so that you won't run in to any issues during your trip.
Verify that you have your insurance information for personal, as well as if you are renting a vehicle.
A thought – if you are renting a vehicle, consider checking with your credit card company – some provide insurance as well if you use them for renting the car.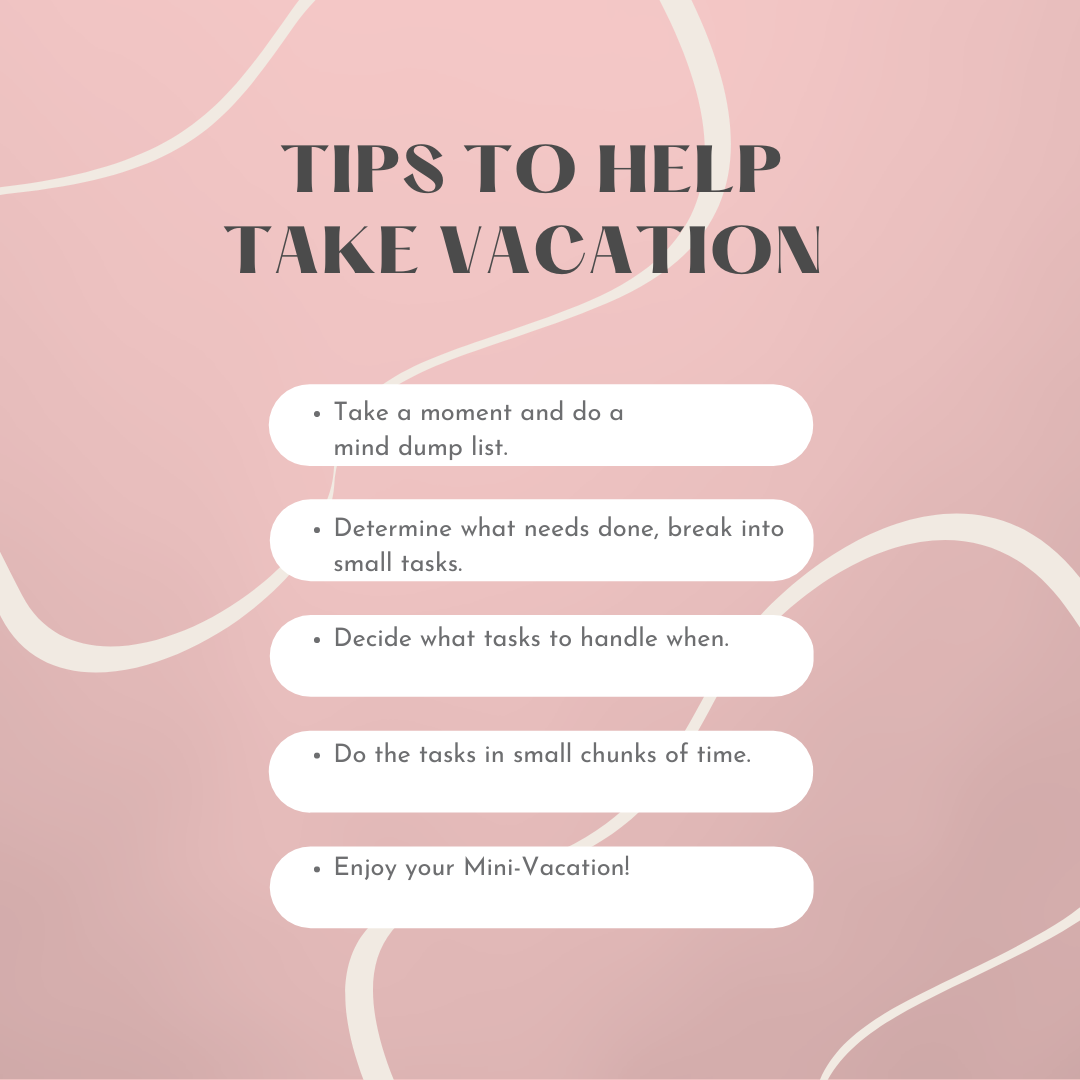 I hope that all these points have been things that help make your mini-vacation simple and enjoyable.
If you decide to use a travel agent for your trip – as I mentioned in the
previous blogs, my friend Denise is a travel agent, and she helped us all get
the great deals that we did on our last trip, plus she handled all the
searching, creating an itinerary, and booking for us – it took so much pressure
off of me during such a difficult time! The greatest thing is – "All
travel bookings have a travel agent fee-built in." – which means I didn't
pay any extra for Denise to book it, in fact – she found better deals than I
would have! You see, " When you book on your own you pay for a Travel
agent and are given an 800# but not given personal service. Paying for a
service you don't use is leaving money on the table. Why not book with a travel
agent who has your back?" Denise certainly had our backs, and I am so
grateful that it was something I didn't have to worry about – i just told her
what I wanted, and she made it happen. So smooth. So simple. So helpful.
I asked Denise, and she said that she would love to help our bloggers out –
so, here is her link – let her have your back for you too! http://mandmmagicaladventures.com/dblassingame.html
Denise can help you with everything from vacation packages to simply renting a
car or getting a hotel room. You can also email her at
deniseb@mandmmagicaladventures.com (let her know that you read about her on our
blog – I know she takes great care of all her clients, but maybe she can bless
you with something special!)
We would love it if you would share with us any of your vacation tips – on
money, time or how to – as I continue this series and hopefully inspire others
to take vacation!
Sending Smiles across the miles, Ms Amy
Thank you so much for spending this time with us! We appreciate every read, like, subscribe, comment, and
share!