OK, so I know that phrase generally was meant back in the day for a patient to take two aspirin and call the doctor in the morning. It was for the aches and pains and little ailments that didn't require emergency attention. Often times when people took those two aspirin and slept, the next morning they would feel much better and probably not even call the doctor. Of course that was also back in the day when the doctor would actually call and check on the patient as well.
But all that being said, I love the way that we take things from the past and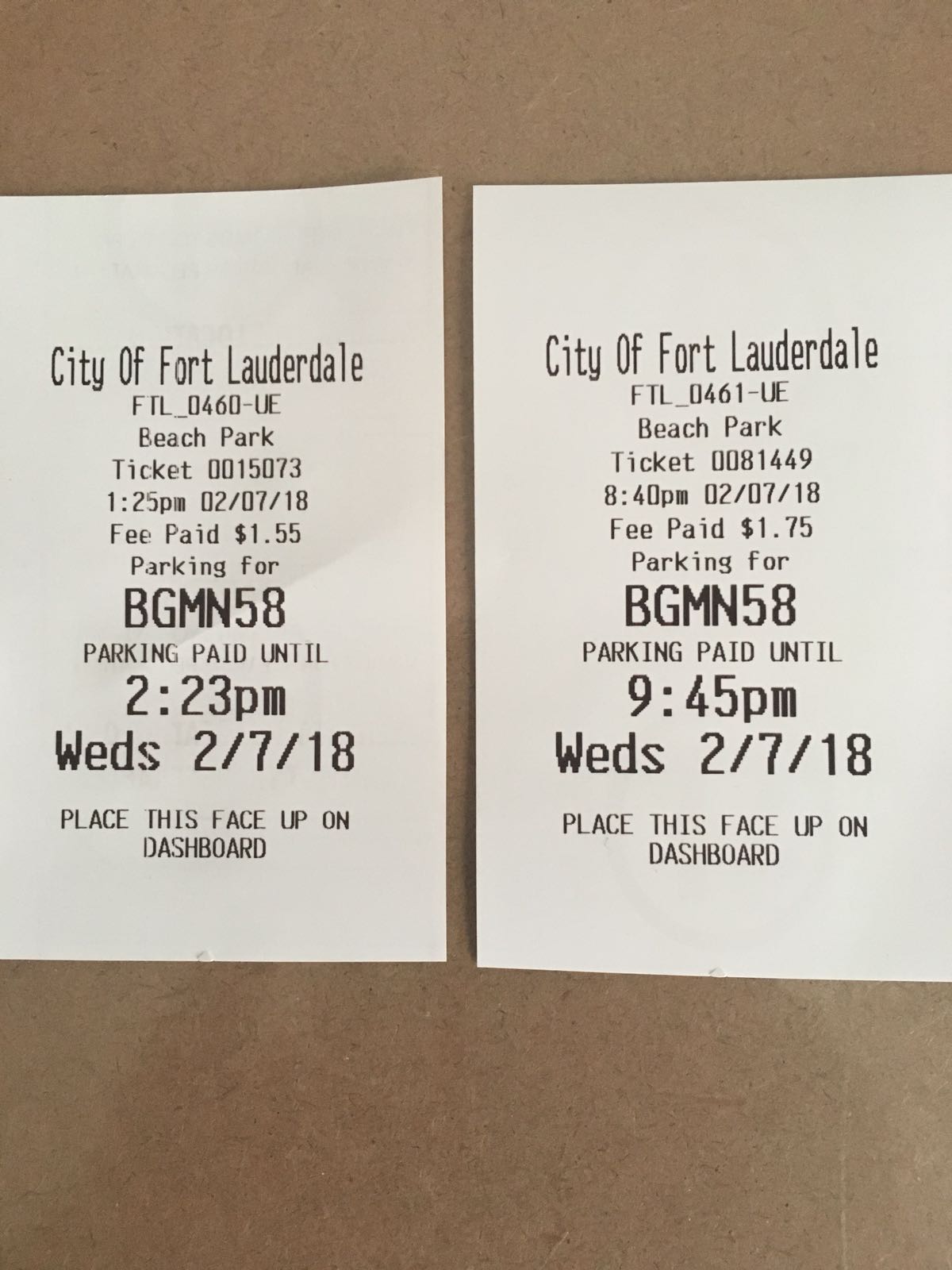 refurbish them, re-allocate them, remake them into what works for us today. For example for me, take two and call me in the morning;  I applied it to take two trips to the ocean in one day! Or even to take 2 days for a beach retreat!
I needed a break! Have you ever had so much going on that you felt like you were greeting yourself coming in the door as you were racing out the door? Have you ever experienced that déjà vu moment of your list being so intense that you actually had to pause to remember what things you accomplished and what things you just added to the list? Everything jumbled around floating through your head sort of like the scenes from Mickey's PhilharMagic at Walt Disney World – where the music is going crazy and all of the instruments are just flipping out all over the screen? Well, that's exactly where I was at when I decided it was time for some beach!
My chiropractor agrees with me, he says that often times the beach is exactly what we need.
Now I'm not much of a swimmer. I don't go to the ocean to swim. I do go for the salt water which is very soothing for my psoriasis. Sometimes I get in a little ways and just take a washcloth and rub the salt water on the psoriasis. Other times I'll go in, if the waves aren't too intense, and let them do it for me.
This probably would be good time to mention that I have severe plaque psoriasis that covers the majority of my body. Unfortunately it is something that flares up more when I'm under excessive stress, or if I'm choosing bad eating habits. I have tried various methods to get it back down, my favorite being time in and near the salt water and sunshine.
So I cleared my calendar for a couple of days, except for some phone calls and took off and went to South Florida. I had the mindset that I just needed to get away and de-stress and focus on some God time. The verse that comes to mind is first Peter 5:7 'cast all your anxiety on Him because He cares for you.' I don't doubt that, and I'm so thankful that He provides times of refuge and rest for us.
I didn't even have a hotel room booked. The first thing I did was to get out in the morning and watch the sunrise. I didn't go in the water at all. I just walked along the beach listened to the waves breathed in the salt water and completely relaxed. It was incredible and so worth it. The sound of the waves as they tumbled over each other is a sound like no other! The majesty of the colors of dawn exploding on the horizon, beyond words.
Then I went to get a hotel room. First I was looking online which I had been doing the week before but nothing had really caught my attention. So when I managed to find a hotel room for under $100 on the beach I definitely was curious.
The advertisement online sounded pretty reasonable, but there was nothing about parking. That's one thing I had learned was not always included. So I went ahead and found the phone number and called to check. I managed to talk to a gentleman at the front desk his name was Ray. He was friendly and very helpful. He told me that parking was included and that yes, they were located directly across from the beautiful beach. He even told me that I was welcome to get a towel and a chair from them after I was checked in to take with me to the beach.
The reviews online were slightly mixed. For the most part they talked about the fact it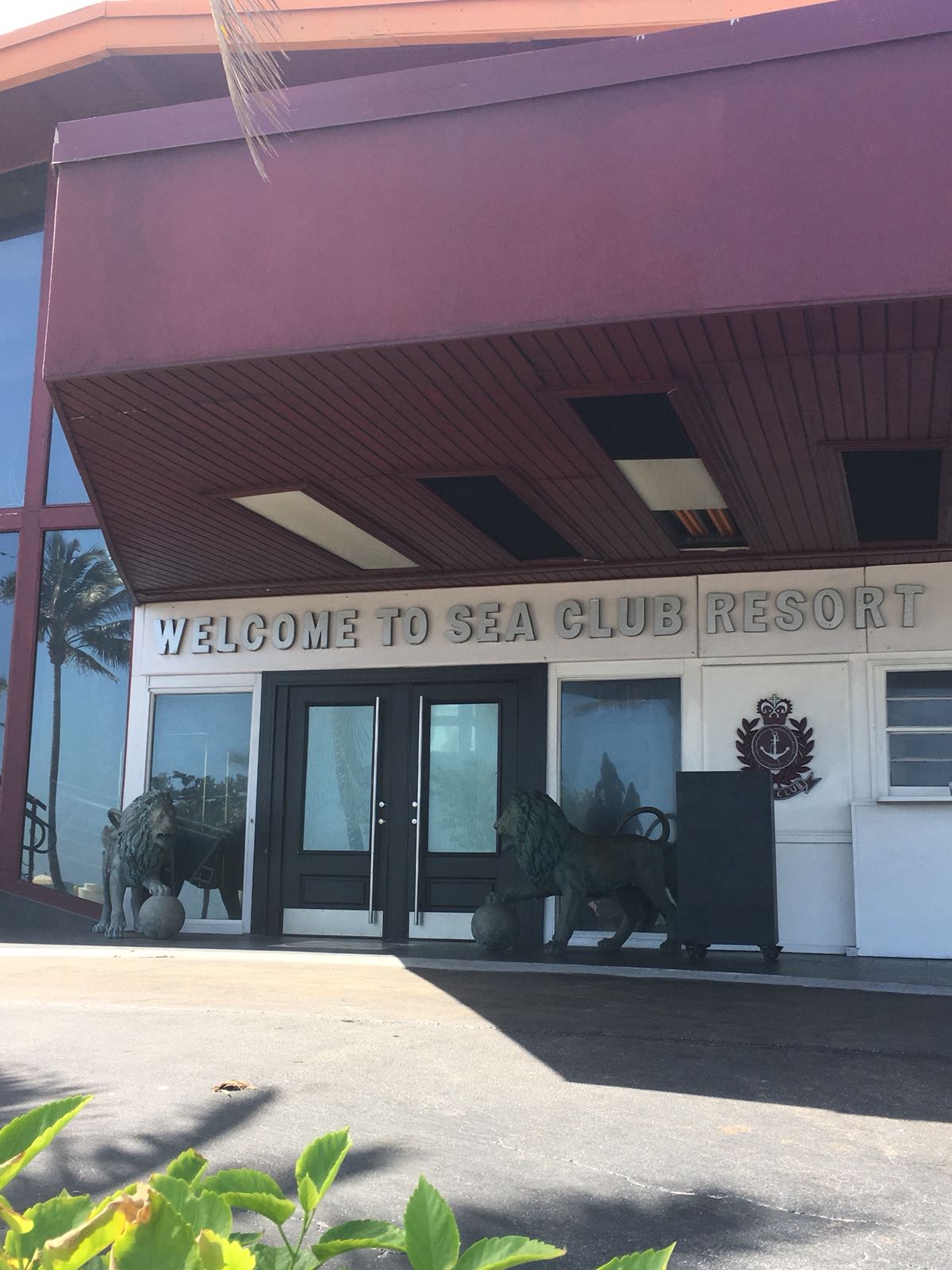 was extremely old hotel. Most of them spoke that it was clean and that it had been recently updated. Some of them were  negative. But I decided it was worth a chance.
So I drove to The Sea Club Resort. I went in and actually got to meet Ray! We laughed and talked and he gave me brochures and information about the area. He was so fun and friendly, I really enjoyed talking with him. I certainly felt the customer service was above par. Plus, he wasn't kidding that the beach was directly across the street. Yes, the hotel was old but it had a bit of charm to it. As for the location? It was exactly what I was looking for.
The bed was comfortable and the room was clean. Ray and Manny (another helpful employee) blessed me with an incredible room with a view. I even was able to sit out on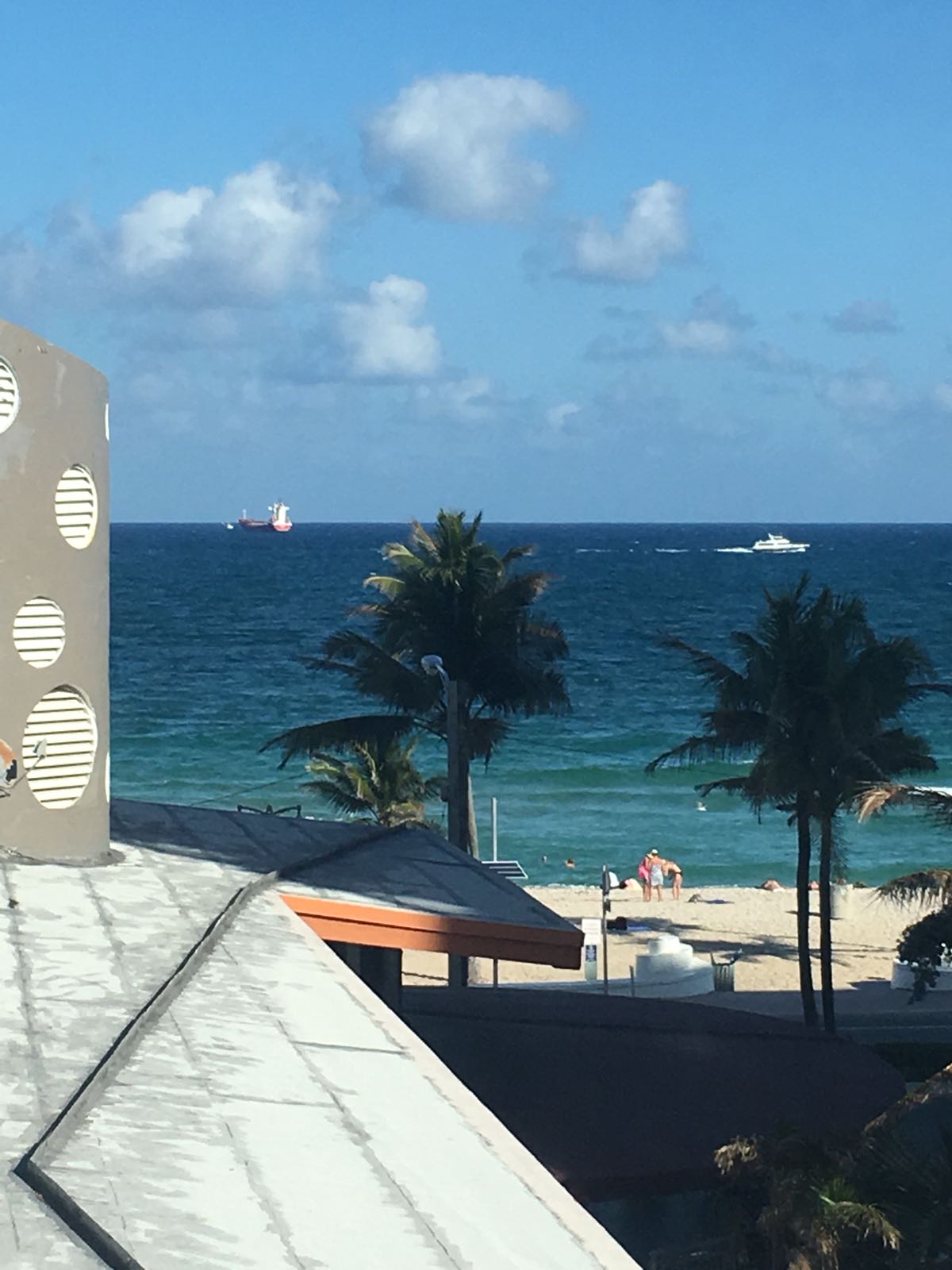 the patio. There was a heated pool, a fitness room, and a little restaurant bar none of which I ever used – so I can't give you a review on those. But I can tell you that I absolutely love Fort Lauderdale beach. The Sea Club Resort is actually located a little bit north of where I generally park and access the beach. But it was beautiful even up there. The water was amazing. The sand so nice. It wasn't super busy – which made me even more comfortable.
Parking was available for me from when I checked in
until noon
the next day. When it was time for check out, I decided I needed more beach time so I went down to the public parking lot and went back out to get a little bit more beach time.
Stepping away like that gave me the opportunity to be able to enjoy God's creation. To see the beautiful waves, to hear them, to feel the sunshine, the water and the hot sand. To be able to remember that there's so much more to life than the urgents and the tasks.  I was able to relax and let go of some of the stress.
The psoriasis responded favorably, which made me feel better as well. Another subtle reminder that taking care of myself is vital.
Knowing this, I intend to be intentional and carve out more time this year to 'stop and smell then roses, or shall I say salty air'?
Honestly, I like the fact that instead of just tearing down the Sea Club Resort and creating another high-rise that they decided to just hold their spot and keep some of that history. I definitely look forward to coming back to them for another break at the beach.
What do you do to get away? How do you destress yourself?
Sun, sand and waves to you, Amy