Ok, I have to start off this blog admitting that I don't really spend much time on YouTube. Periodically I will watch this or that, but it's never really been something that has kept me very captivated. So, when our good friend Pastor George Burnash told us about his YouTube Channel, I put it on my list of 'to do'.  I had the old 'I'll find a time and check it out' mindset. But then I would forget and when it would come to mind it just wasn't convenient to stop and watch. How humbling and embarrassing it is to actually step back and look at that. I realized when I do, that I see how it may appear that I don't place much value on our friendship, if I would allow circumstances to distract me from viewing something that is important to my friend; nothing could be farther from the truth regarding our friendship and how much it means to me. So, it is with a contrite heart that I will be really honest, and admit that today was finally the day that I sat and watched several the videos. What made today different? Read on, and I will share that.
See a few months back, Pastor George put out a message on Facebook asking if any of his Florida friends would be up for his company and a place to stay if he came to Florida for a few days. I jumped right on and told him he was welcome here. We all enjoy him and his sweet wife Margaret, and their awesome children, Amber and Joseph. He had been our daughter's youth pastor before they moved to another state and became lead pastors. We had all become friends, and missed having them and his stories around.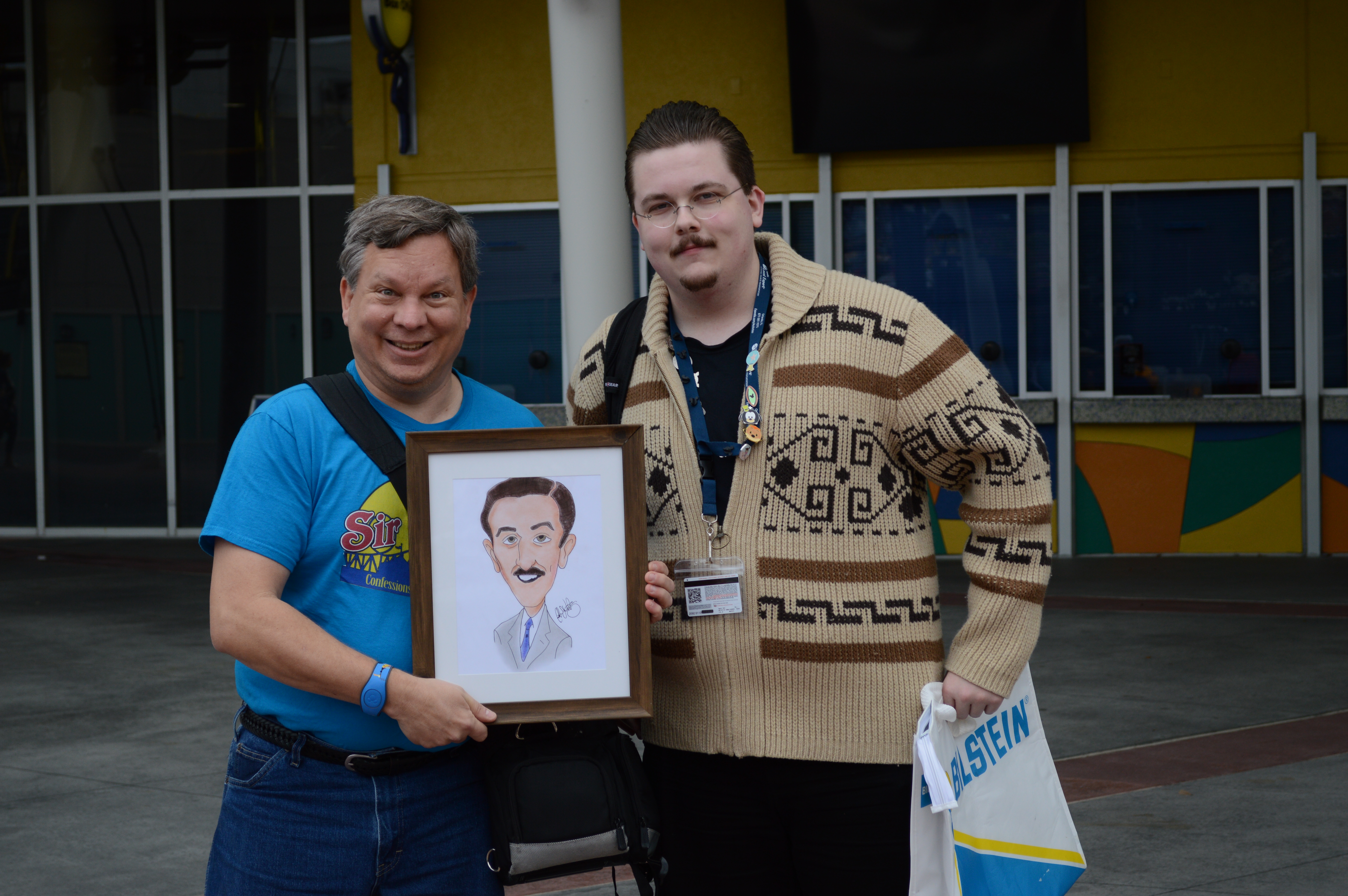 George has a laugh and an anecdote for almost everything. His zest for life is refreshing and he doesn't mind laughing at himself. His attention to detail helps me to visualize his experiences and make the stories interesting. So, I knew this visit would be a good one, even if it was in the middle of lots of busy crazy life.
I love how Laurie Woodward, entrepreneur and speaker has captivated the best way to explain it, "Oh! I'm sorry. See, you caught us right in the middle of living!" Haha! That is exactly how to describe it!
You caught us right in the middle of living,
I really hope you are understanding,
There are dishes in the sink,
Let me wash one quick for your drink, Gotta dash, there are errands to be run,
Don't mind the stacks of laundry needing done,
See you caught us right in the middle of living.
Each day I think tomorrow that I will get ahead,
But at night I find more added to my list instead.
So, sit with me while I take a break,
In a moment dinner I will make.
Don't mind the clutter, or the mess,
I've learned there's no reason to stress.
One day I may get all caught up, but not today,
So, come ignore the mess during your stay,
See you caught us right in the middle of living.
Thankfully Pastor George knew before he came what it was like at our household, and so we were quite comfortable with him here and vice versa.
So, back to the YouTube (thanks for staying with me on my little rabbit trail!) and what that has to do with Pastor George!
A while back, thanks to Pastor George's son Joseph, a YouTube channel was created giving George an outlet for his fun facts and stories. Sir Willow is Pastor George's online persona, so that's how one can look for the channel (or just use the link that I paste below).
What started as a quirk to just mess around sharing some funnies actually morphed into a legit channel with followers, fans and Patrons!
(One day in the future, you will get to read in our Modern Day Heroes more about how all that played out.)
Upon speaking with Pastor George about his upcoming trip, I learned that Margaret couldn't come this time with her work schedule; and that his fans, following and Patrons actually provided this trip for him. His mission would be to arrive daily at the parks to create more content and meet people. This trip was more than met the eye, unbeknownst to me it would be the catalyst for some incredible things.
Pastor George set up a meet and greet for Saturday, and asked if my son Michael would like to be camera man. Obviously, Michael was curious to go, and so was his best friend Michael who had stayed over. Being exposed to George's passion for Theme and Adventure parks was a positive experience, but add to that his zeal for photos and filming, it was enough to light Michael's artistic side on fire! All week he has had out his camera and has been snapping photos like crazy. Michael was more than ready to take Wednesday and Thursday off of school and be George's sidekick one day at Disney's Hollywood Studios and then the next day at Magic Kingdom. He couldn't wait, and told me he knew he would learn even more and he was looking forward to it.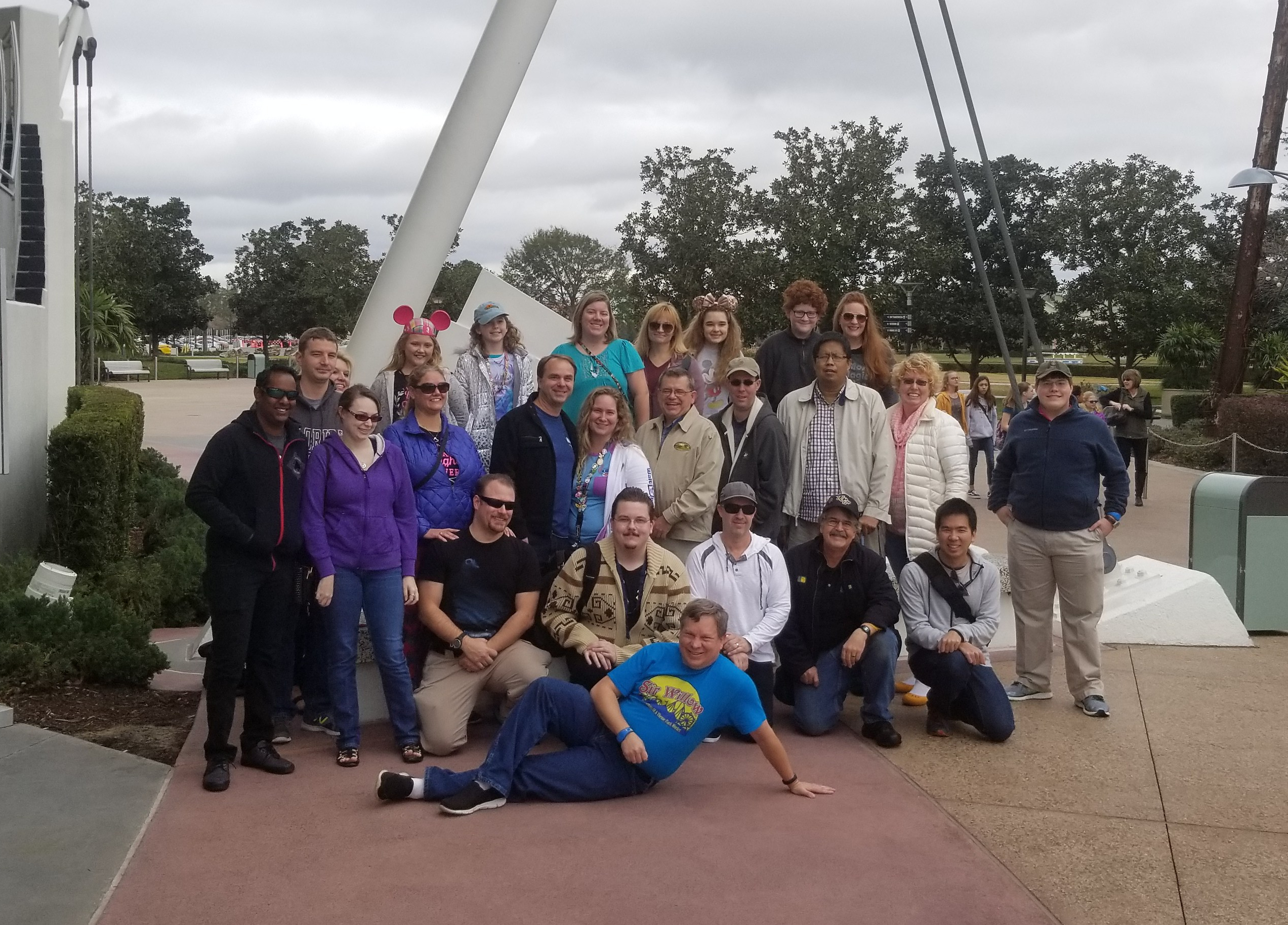 The day of the Magic Kingdom filming came with 25 degree temperatures, layered clothing, smiles and anticipation. After enduring the cold for a bit, I went back to the parking lot and climbed into my nice warm car, letting the guys enjoy their adventure while my bones thawed out a bit.
Because of listening to Michael and George talk over the last few days, and then seeing Pastor George in action doing some live streaming video as we entered the park, I was drawn to get on YouTube and see what things looked like from that angle.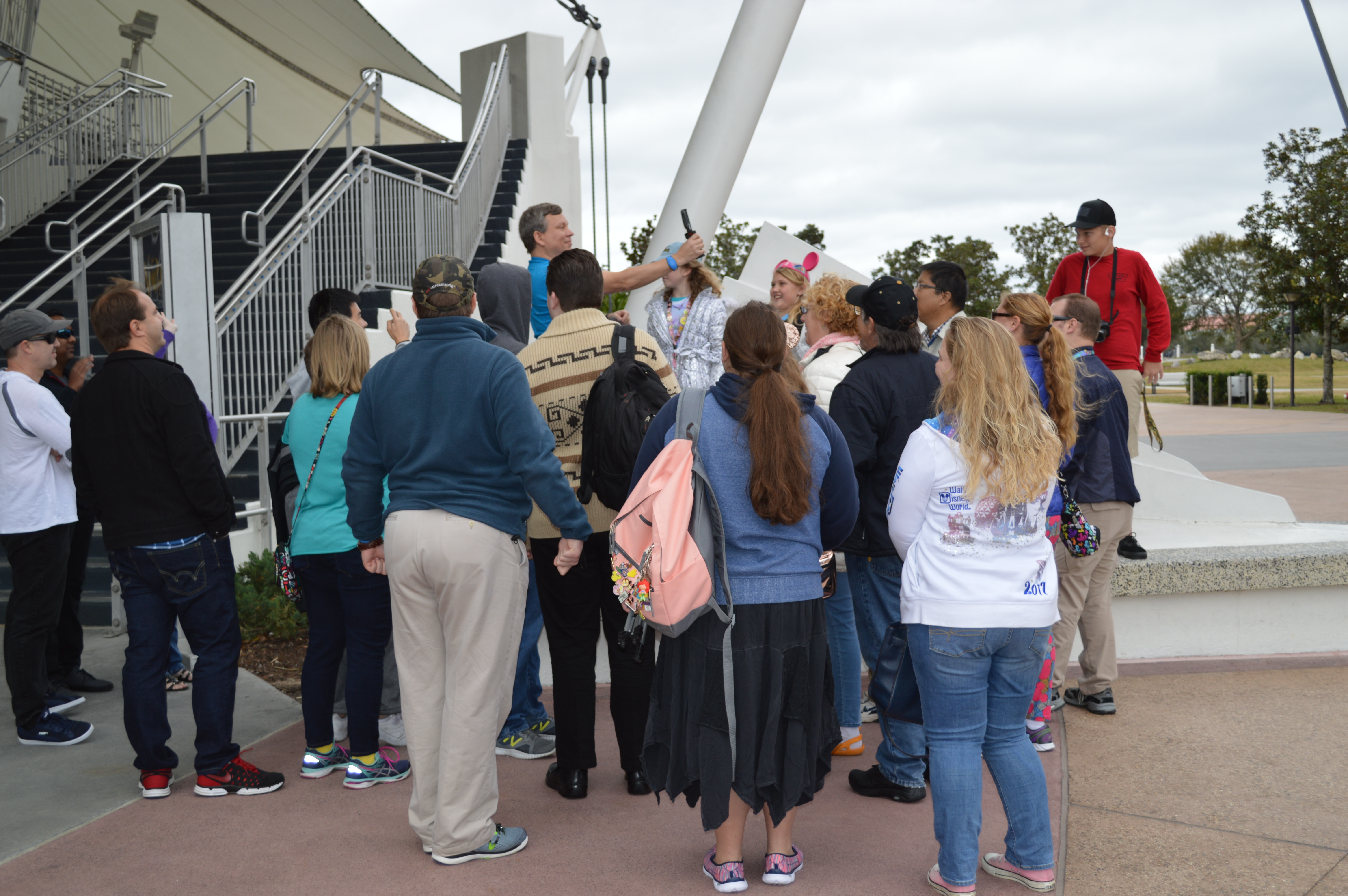 See, what I had experienced that morning, observing Pastor George was many very admirable traits, most of which I had knew he had over the years, but now I saw them in action. I was inspired by what I saw, and I'm kind of ashamed to admit, I was also surprised by what I saw. This sounds bad, but I must admit that I had been happy for Pastor George for what he was enjoying doing, but I had no real clue as to the nature and extent of impact that he was having.
– An avid passion to portray the truth, generally coated in humor.
– A clear cut love of teaching and explaining.
– A heartfelt desire to make others feel important and of value.
– A sincere interest in answering questions for people.
– A man that truly enjoys making others laugh and smile.
– A humble man that isn't afraid to laugh at himself, and encourages others to do so as well.
– A man that isn't burying his gifts and talents, and is willing to get up early, fight cold weather and get out there to share it with others.
Those were all things that were revealed to me throughout the week, and quite clearly on the way in to Magic Kingdom. I had gotten just a brief glimpse of the meet and greet, when Ken and I came to pick up the Michaels to head to ball. I saw people clamored around Pastor George to speak with him, and hear stories and such. I was focused on getting the boys, and also saying hi to a friend that I hadn't seen in years; so, the reality of what I was seeing didn't actually sink in until what I viewed yesterday.
The realization came as I watched Pastor George doing a live video stream, answering questions from his 'peeps' – his friends, following, fans and Patrons. He was sharing what he was experiencing and at the same time, avidly reading their comments and personally responding to them. I saw that not only did he not get befuddled by so much happening at once, but that he actually seemed in his element. I observed how he made everyone that wrote to him feel not only important, but also that they were an intricate part of his journey. It was at this point that the realization of what I had missed at the meet and greet came over me like a warm breeze – the crowd that was around him appreciated and loved him. Sir Willow (Pastor George) was doing something for these people that made a difference in their lives.
– They felt important.
– They felt of value.
– They learned from him.
– He made them smile.
– He made them laugh.
– He cared about what they said or asked.
– He was thankful for them.
Suddenly it dawned on me, that this little venture was a full-blown blessing to many people out there. It was sobering to realize that what I had looked upon as 'nice' was really something filled with purpose, passion and potential.
I am also excited to say that by request he has also added another channel, that is focused primarily on spiritual and the Word of God. He calls it 'The Burning Bush by George Burnash'.
So, if you are looking for a few moments of learning, laughter, inspiration, or just are bored and want to have something different to watch – subscribing to Sir Willow isn't just another YouTube, it's exactly what you need!
Who are some of your favorites to watch on YouTube?
Have you ever, like me, realized that by not placing significance upon something others value, it could come across that you don't care? What will you do to change that?
Is there anyone else out there like me, that hadn't seen the benefits that could be available through YouTube?
Happy Viewing, Amy
Burning Bush: https://www.youtube.com/channel/UCec_oInXWPoAhutZZH5p3Cg
Sir Willow: www.youtube.com/c/SirWillow
Photo Credit: Michael May
Michael's IG: bringerofrain29